How to Create a Great
Personality Quiz Online & Free?
With great confidence, I can say that the personality quiz is:
The most popular quiz type in the world
My favorite type of interactive content
The most quiz functional builder on Quizterra, as we have upgraded it a lot
Today, you can make your own personality quiz online using our quiz maker for free. Basically, this post is designed to show you exactly how to do that. However, step-by-step instructions are just a minor thing that I can share with you, so I've decided to structure this post in the following way:
First, I'll explain how I use personality quizzes on my sites. Spoiler: I use it as a tool to increase the metrics and search positions of my posts.
Second, I'll explain all the functions of our personality quiz builder, so your audience can enjoy functional and well-designed content.
Third, I'll give you the exact editorial guidelines that my team follows when creating content on Quizterra.
I believe the best way to finish this post is to give you an idea of how to improve your content without spending time on creating quizzes. And, of course, I'll answer all of your questions in the comment section below.
Let's start!
---
How I Use Quizzes on my Niche Sites
Around seven years have passed since I got into the industry of making content (niche) websites. I tried many different niches and different income models, but for some reason, on every site I created, I used quizzes.
At first, it was just for fun. The main idea was to vary the content of the website. The main traffic source on niche websites is search engines (mainly Google), so generally, for the most part, webmasters are just trying to craft as many articles with a high search volume as they can.
One day, when I started doing link research on my sites, I noticed that the majority of organic links were coming from quizzes. Although they looked weird, it was a time when this format was quite new to the market and the questions were fun, so people loved and shared the quizzes despite the ugly design.
Today, when we design our quiz builders, we clearly understand the value it brings to webmasters.
Engaging content improves the key metrics of the website, including avg. session duration, bounce rate, pages per session, dwell time and others.
With the help of quizzes, you can route users through your site, making them pass through the content you want to boost.
Polls and other interactive content capitalize on the user's desire to constantly click. This is a "clicking disorder" that is progressing as people use more and more apps like Instagram or TikTok. It's getting harder and harder to get users to focus on long reads.
Quizzes are a great marketing tool if you have a product to sell or promote.
Quizzes and riddles are a great way to grow your organic backlink profile and even attract paid traffic from multiple sources. I explain the mechanics of this in this post on my blog.
Now let's take those three examples of quizzes above and design a few scenarios for how to use them on niche websites or blogs.
---
Case #1
Niche: Travel
Monetization: Affiliate – Tickets
As you already understand, the goal of the quiz is to reveal the demand for the next travel destination and offer the user the opportunity to buy a ticket (or book a hotel/apartment). I've created several questions to guess where the user might want to go on their next trip. In each personalized result, I add an affiliate link to the ticket/booking system that gives me a commission if the user makes a transaction/booking in the following days (Terms and conditions will vary. For Amazon, it's 24 hours right now).
Even if the user changes their mind about the destination and buys a ticket to somewhere else, they still have our affiliate cookie in their browser, so we make our commission anyway. Basically, this is how affiliate marketing works.
The quiz does the job of a recommendation system. We know nothing about the user yet, so we need to ask them questions to make a relevant offer. What I truly love about this quiz type is that we have unlimited ideas about what can we ask.
The better we are as sociologists and psychologists, the more personalized and accurate the offer we can make. And if we can get it right, this is a killer feature of the content we creature.
---
Case #2
Niche: Product Review (hairdryers)
Monetization – Affiliate (Amazon)
After the previous example, this one should be completely clear. I just wanted to show you this combination of quiz + product, where the quiz topic is not that obvious.
To do this type of content, you need to understand the pain of your audience and the criteria of how they really choose a product. This quiz if not really relevant. I did not do research about hairdryers, and I am not even sure that different types of hair require different hairdryers. I'm guessing that long hair requires a more powerful one and that it doesn't really matter for shorter styles.
But still, you can apply this strategy to lots of different products, like skin products, for example. Make a quiz about different skin types and offer cosmetics or online courses about how to treat the user's skin type.
---
Case #3
Niche: Expert Blog (marketing)
Monetization: Personal services (consultations, audits, Google Ads set up)
In this case, we have the website of an expert marketer who is good at setting up Google Ads and offers his services as a freelancer. Let's use an article about "The Top 10 Most Common AdWords Mistakes". Actually, we can use a live example from here. https://www.searchenginejournal.com/top-10-common-adwords-mistakes/216271/
Go to this article and take a look at it. Damn, I should ask for money for such a great advertisement next time. Anyway, articles like this one normally just contain text with some screenshots. It's okay. This simple format is enough to deliver a message.
But what should other marketing bloggers do? You might have great expertise with Google Ads, but how can you rank your new article higher than older websites with high-quality link profiles? You cannot write a much better article, as both will be good enough to rank high. Obviously, you should try something else.
"

My suggestion is: make interactive content.

"
Let's start this article with a personality quiz. It's a simple thing that changes the script of the user's interaction with the page. First, users take a quiz to understand where estimate how good his advertising skills are.
Let me draw your attention to the fact that we could do a trivia game here, show correct and wrong answers immediately and even explain them. That would mean that we could put the whole article into the quiz. This is great for the user as this type of quiz is very fun and easy to take.
Unfortunately, we still need to have text in our post just to rank higher. Google will not rank us high if our competitors have text that people read and we don't.
That's why I made a personality quiz that says that the user has something to learn from our article and then gives them an article that they carefully read to find out what the mistake they have made.
Let's compare the new version of the article, which has a quiz at the beginning, and the old one, which does not. On the new version, users:
Have a longer session duration (spend more time);
Read content carefully (to find where they made mistakes);
Share, bookmark and distribute content more intensely since you made something unusual and helpful.
Sweet bonus: In the results of the quiz, we can make the user an offer to buy our course or a personal consultation. This is not really what we are striving for in this particular case (we already did a great job, which might lead to a higher ranking in Google), but still, keep in mind that you can use buttons and lead forms in your quizzes.
"

Conclusion: A quiz inside a post is a great way to increase website metrics and sales!

"
---
How to Make a Personality Quiz on Quizterra
Now let me give you some more concrete instructions on how to create your own personality quiz on Quizterra. The builder is pretty simple, but we have created a lot of cool functions to help you make stand-out content. In the personality quiz builder, we have eight(!) types of answers. I hope that all the capabilities we provide are useful and help you bring all your ideas to life.
To make a personality quiz we need to go through five simple steps:
Introduction
You will be able to hide this and start the quiz directly from the first question, so if you plan to do that, just fill in the quiz title and move on.
If you plan to keep this welcome window in your quiz, think of an attractive title, then add a description with a few questions about the topic and a cool image or GIF (I prefer GIFs) to engage your audience.
Results
In a personality quiz, we first write the results and then match them with the answers. If we add two results, then on the next step, we need to match each answer with one of these two results. At the end, if the user gives more answers that match result number one, then this result is revealed. Very simple.
The resulting window has the same structure as the Introduction. The only difference is that here you can use the conversion instruments: Buttons and Lead Forms. These tools are available on the premium account, so if you have this, I strongly recommend that you add buttons even if you have nothing to advertise. At the very least, include a link to another page on your site that is relevant to the quiz result. Perhaps add a link to your Instagram profile or something else that prolongs the user's session on your website.
Capturing leads is also pretty easy. You can add the lead form to one or every result of your quiz, choose fields that you want to be filled, and add a button with the right call to action. You can have all the leads sent to your email immediately and you can always download the list from the personal area.
Questions
As you now understand, our goal is to write interesting questions, add variants of the answers, and then match each answer with one of the results.
The question field contains the question text and image/GIF. You are already familiar with this interface. The more interesting part is the types of answers that we have developed!
Let me give you a quick explanation of each type of answer with a live demo.
1. Text – not much to explain here.
2. Pictures – you can add images and gifs here.
3. Pictures and text captions – this the same type of answer, but I'm just drawing your attention to the fact that you can have text captions under each image.
4. Emoji rating – user chooses from 5 emojis.
5. Star rating – user rates something from 1 to 5 stars.
6. Number range – this one is a very unique feature that we included in our personality quizzes. The user sees a range with two numbers on the sides and an element in between that can be moved. The idea is to pick a number in the specified range. Watch an example:
In the quiz builder, you need to set the left and right number of the range and create smaller ranges to match with the quiz results. For example, if you have a range from 1 to 100, you can create two smaller ranges from 1 to 50 and 51 to 100. The first range will correspond to result number one, and the second range will correspond to result number two. If the user picks 36, they are one step closer to seeing the first result, but if they choose 83, they're closer to seeing the second result.
7. Agree/Disagree – the user chooses one of five text variants to express their agreement with the statement.
8. Yes/No – the user chooses between two well-designed buttons. The standard words are "Yes" and "No", but you can change these to whatever you want.
Add as many questions as you like and move to the next step to finish the personality quiz.
Styles
First, choose the way you want to display your quiz: all questions at the same time or one by one.
If you ask me, one by one looks perfect as users do not need to scroll as much and cannot miss a question.
Preview your quiz in every design template that we have. Each template has its own unique style with fonts, colors and animation design.
If you are happy with the content and style, let's publish your personality quiz!
Publication
Congratulations, your masterpiece is ready. Now let's decide where you want to publish it!
If you made a quiz for your friends and do not have your own website, just leave the settings as they are.
If you don't want the quiz to be published on Quizterra, switch off the first toggle and click on "Get Embed Code".
Just copy the code and paste it anywhere inside your article.
If you publish a quiz on your site, take a look at these cool customization features.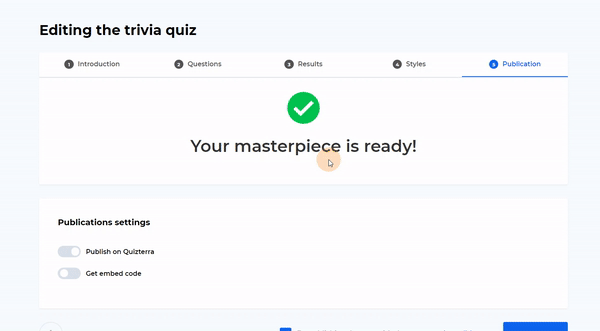 Display Intro – As I said earlier, you can start a quiz from the introduction window or straight from the first question. Your choice!
Display social links – If you want to put your own social links under the quiz, disable this toggle.
Display author, date and view count – Not much to add here. Just think about whether or not you need this info to be displayed on your site.
Remove branding – If switched on, there will be no mention of quizterra.com. This feature is only available if you have a premium account on Quizterra.
Protect from copying – This is another unique premium feature that will ensure that your quizzes are only displayed on the domains that you manually add to the list. It's no secret that doorways and other websites often steal articles and other content from your website. If they take your source code, your quizzes will not display on their sites.
Once saved, all changes are applied, and you can test your quiz wherever you publish it. What do you think about our trivia builder? If you have any questions or suggestions, I would appreciate you writing a comment below. Also, if you like the idea of interactive content and are striving to boost traffic to your niche or blog site, subscribe to my YouTube channel and join the community on Facebook.
---
How to Make a Personality Quiz that People Love
This post is already too long, I apologize. If you are still reading, let me try to give me a bit more value and inspiration to create fantastic content for your sites.
Here are some editorial guidelines that I give to my team who create personality quizzes for me.
7 to 12 questions unless the methodology of the quiz requires a concrete number
Vary everything:

Different formats of questions
Different types of answers

Make it look good:

Try to use GIFs and images where relevant
Take GIFs from giphy.com
Be creative

Showcase your copywriting skills:

Use situations as questions (ex: Imagine that … What would you do?)
Match type of question with a relevant type of answer (for example, if you use a "number range" answer type, the questions should start with "How many")

Don't be rude, don't abuse anyone, be polite, open and good to people as they will see it in your content
Think of conversion when writing the results. Even if a quiz does not have a specific goal, ask users to share it on their social networks.
Subscribe to my YouTube channel and Facebook community. There, you will find more use cases with different niches and types of quizzes. If you leave a comment, I could make a case specifically for your niche so you can implement it on your sites! Sound good? Let's have a conversation below.